Viasat 1S is the satellite anti-theft device that guarantees safety and protection for the car and its occupants in case of accident or vehicle theft.
The Viasat 1S satellite anti-theft device is the top model in the S line. Together with the Viasat 2S and thanks to its functionalities and combined services, it guarantees safety and assistance on the road.
Its small and compact design allows easy placement on any vehicle
Viasat Group has a network of Operations Centres in Italy and Europe for the management of alarms and emergency procedures relating to our customers' security. The direct management of the telematic and assistance service guarantees high levels of quality, in terms of reaction times and speed of intervention in case of need.

Contact us to find out how to activate Viasat 1S
The Viasat 1S satellite alarm system has multiple functions and services that can be modulated according to the type of contract subscribed to
All benefits reserved for Viasat 1S customers
From the Viasat website homepage, you can access the Customer Reserved Area where data and information on the use of your device are registered.
For access to the Viasat Reserved Customer Area, it is necessary to install the Viasat 1S satellite alarm system on your vehicle and to have activated a subscription.
Installing Viasat 1S is quick and easy
The compact design makes installation easy.
The authorised Viasat Centre installs the product into the vehicle without any holes or screws.
By buying the Viasat 1S satellite alarm system you can get discounts on your insurance policy, depending on the contract you have signed.
Discover all the advantages in one of Viasat's partner insurance companies*.
*Admiral, Amissima, Ania, AXA Assicurazioni, ConTe.it, DDOR Novi Sad, Generali, Gruppo Assimoco, Groupama, helvetia, Italiana Assicurazioni, Mapfre, Reale Mutua e Sara.
For Viasat 1S customers, the Viasat appS is available to transform the smartphone into a personal safety device.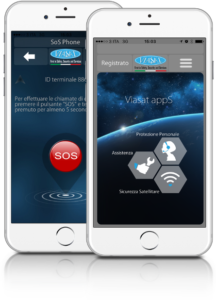 Viasat installation centres: a unique quality network
Viasat Assistance is a widespread, Europe-wide network of mobile workshops and tow trucks and an associated circuit of workshops and body shops made up of 2000 network installers, of which 1500 Viasat Assistance and 80 TUV ISO9001 certified in Italy. A network of professionals, authorised and specialised in the installation of on-board devices and in after-sales assistance, able to operate 7 days a week, 365 days a year even at customer sites and on all types of vehicles.
Some services (such as, for example, towing and/or medical assistance) are also provided – where included among the services activated by the Customer – beyond national borders, through contracted operators.
Viasat Assistance guarantees:
Compare S-line satellite anti-theft devices
Compare the functions and services between Viasat 1S and 2S satellite alarm systems belonging to the same line.
| Functions and services | VIASAT 1S | VIASAT 2S |
| --- | --- | --- |
| STV - On-demand theft reporting | | |
| Crash Alarm | | |
| Move Alarm | | |
| Cable cut alarm | | |
| Volumetric alarm | | |
| Perimeter alarm | | |
| Emergency alarm (V-Call) | | |
| Emergency alarm (Sos Phone via Viasat appS) | | |
| Starting block from Operations Centre | | |
| V-Key security: automatic alarm for non-authentication | | |
| Sicurezza V-Key: blocco avviamento automatico | | |
| V-Key Security: Personal Protection Robbery Alarm | | |
| V-Key security: Kcall personal protection | | |
| Automatic engine lock for Jamming detection | | |
| Jamming alarm | | |
| Medical mechanical assistance | | |
| Telematics Report | Optional | Optional |
| Securization | | |
| Viasat appS | | |
| Web reports: statistics use and crash data | | |
| Web report: routes mapped | | |
| Car Finder, Geofence, Speed control | | |
| Tool car included | | |
Fill in the forma for more information:
Targa Telematics further strengthens its leadership in the Italian and European market, expanding the range of innovative technologies for increasingly international projects. Nicola…
The European Parliament has given the final green light to the agreement, reached by the EU Council in November 2022, on stopping the…
Since 2020, Viasat Group has been supporting the activities of Graine de Vie, a Belgian Non-Governmental Organization, founded in 2009, present in Luxembourg,…